Genealogy Resources
---
Outside the Box (of photographs)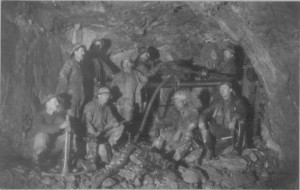 Do you have a box of old photos gathering dust in your closet? Now might be a good time to get them out and digitized. Sometimes, photos can answer questions rather than raise them. Did your ancestor build their own home but you aren't sure where it was? Some old photos include clues, like house numbers, street signs and other landmarks. Tombstone pictures are a great resource to have because it gives you birth and death information in one spot. Not sure when your great great grandfather was born but you have a photo of him at the 1892 World's Fair in Chicago and he looks like he is about 20? That can help give a baseline for researching until you can find an exact date of birth. If you don't have any photographs, sometimes you can find them outside the family. A lot of passports in the 20th century included photographs. I have found collections in museums and archives in the towns where the families were from that included my relative. The photo above is from the Digital Collection in the Ned Barnes Northwest History Room. These men are someones relatives. Photos of military units can yield results for those who served. The digitization of yearbooks is also becoming more common. The Spokane Public Library has digitized our collection of Spokane yearbooks and they can be searched HERE. Think outside the box and you might be surprised what you can find!
~ Obituary Goddess
The Eastern Washington Genealogical Society is here to help you! Volunteers are on duty every Tuesday 10 AM - 12PM and 1- 3 PM and every first and fourth Thursday from 3-6 PM or by appointment in the Genealogy Area to answer questions and assist researchers. Beginning researchers are encouraged to visit. Please call (509-444-5357) or email (askewgsi@ewgsi.org) if you are coming from out of town or to make an appointment with the genealogists.

Check flyers posted in the Genealogy Area for information on workshops, beginner classes, luncheons and other activities. Please feel free to attend all functions...and you are also invited to join the Eastern Washington Genealogical Society .
The Downtown branch of the Spokane Public Library houses a growing collection of genealogical resources, with special emphasis on Spokane, Eastern Washington and the surrounding states.
Resources housed in the Genealogy Area on the Third Floor include a collection of Spokane city directories, Spokane newspapers obituary indexes, census microfilm, periodicals, family histories, vertical files and much more.
Other resources of interest to genealogy researchers, such as the county plat maps, Sanborn fire maps, early Spokane newspaper indexes, etc are located in the Northwest History Room on the Second Floor.
Spokane Newspapers from 1882 to 1894 are on microfilm in the Northwest Room and from 1895 to present are on the Third Floor.
If you are unable to make it in to the library or you need further assistance, the FamilySearch Centers run by the LDS church are open to the public. To find a Center near you enter your zip code at the FamilySearch site.