Print this page
Ned M. Barnes Northwest Room Resources
---
Spokane High School Yearbooks

The Northwest Room is pleased to announce an exciting new digital collection of Spokane High School Yearbooks. With the cooperation of the Spokane Public Schools and the Internet Archive, we have scanned and uploaded yearbooks from Lewis & Clark, North Central, Ferris, Hillyard, Rogers, Shadle Park and Spokane High School. For now, the yearbooks go up to 1977. The Northwest Room has other yearbooks available and will add more to the digital collection in the future. For now, this is an exciting development because the Internet Archive makes the yearbooks searchable. So, go ahead and search for your family's high school yearbook pictures.
We are missing some yearbooks from our collection and if you have any hiding at home, we'd love to have you either donate or loan them to the Northwest Room for scanning. We can still add missing yearbooks.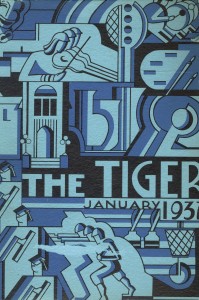 ~ Northwest Librarian
The Ned M. Barnes Northwest Room is a unique special collection, focusing on the history of the Inland Pacific Northwest.


Please note open hours:
Tuesday -- 1pm - 8pm
Thursday -- 10am - 6pm
Wednesday, Friday & Saturday -- 1pm - 6pm


About the Ned M. Barnes Northwest Room

The Spokane Public Library is honored to house one of the finest and most extensive Northwest collections in the country. Comprising over 13,000 items, this superb collection is readily available to the public during open hours. Most of the collection is searchable through the Library's catalog. The collection consists of reference books, maps, directories, periodicals, government documents, and archival materials pertaining to the history, exploration, and settlement of the Northwest, or that region including Washington, Oregon, Idaho, Montana, and the province of British Columbia. The Northwest Room offers information on every period from the late 1700's to the present.
While there is emphasis on early voyages and overland expeditions, Indians, the fur trade, missions and pioneer life, materials on a wide variety of subjects such as flora and fauna, industries, biographies, art, and literature are also included. Personal journals and reminiscences, local histories, and descriptive materials are an important part of the continually growing collection. There is a small, but excellent photograph collection much of which was donated by Thomas Teakle who taught history for many years at Spokane's Lewis and Clark High School. We invite you to browse our Digital Collections, where you will find over 1,000 digital images drawn from the archives of the Northwest Room.
The commitment to Northwest materials began with George W. Fuller, Spokane Public Library's first librarian and author of a widely used history of the region. The current Fuller Collection includes old and rare materials, largely first editions of works. Gladys Smith Puckett, Library Director from 1937 to 1960, shared Fuller's vision and continued to collect Northwest materials throughout her tenure. Commitment to the collection lives on. Today, Northwest materials and the Fuller collection are housed in a special climate-controlled room, designed especially for the purpose, at the Downtown Library. This room features two glass display cases, a small gallery for fine art, a reading and study area, a workroom for materials preservation, a vault for extremely old and rare materials, and light sensitive glass.
Exhibits
The Northwest Room displays permanent art from the collection, including Catholic Ladders, "Bird's Eye" or panoramic maps of Spokane, and original artwork. The room also includes five display cases, which feature temporary exhibits, which rotate several times a year.
Northwest Room Biographical Files

For over 100 years, librarians at SPL clipped the newspapers for biographical information. These clippings include obituaries on pioneers, but they also contain all kinds of biographical information from papers in Spokane and around the Northwest. The Northwest Room has created a database for every name in these files which includes over five thousand names.
Search the Northwest Room Biographical Files
Use of the Collection

The Northwest Collection is a research collection therefore the materials are not available to check out. As many materials are rare and fragile, the following guidelines for use are always observed:
Pencils only for note taking: pens are not permitted in the Northwest Room.
The use of personal tape recorders, typewriters, laptop computers, and cameras may be permitted, providing that they do not disturb other researchers. Please check with staff before using.
All materials are returned to staff ten minutes before closing.
All materials are re-shelved and re-filed by staff.
Photocopying of some materials may be restricted. Library staff will assist in limited photocopying of unrestricted materials.
Spokane Public Library does not surrender its right to print or otherwise reproduce manuscripts or to grant permission to others. The researcher must assume responsibility for the use of material including the infringement of copyright or other agency owner.
As the Northwest Room was designed to accommodate research, no accommodation has been made for small children.
Cellular telephones are not allowed in the room.